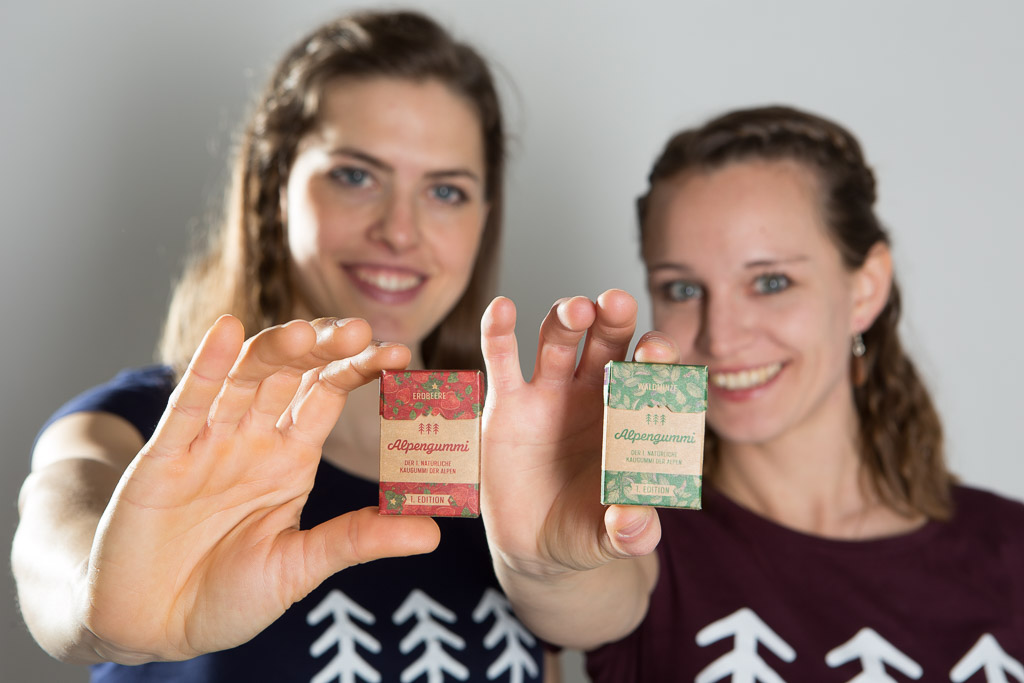 The Alpengummi team - We present ourselves
At last it is available: the first natural chewing gum in the Alps. But who is actually behind it? Who came up with the idea of producing a natural chewing gum from local tree resin?
The inventors
May we introduce ourselves: We are Claudia and Sandra, the founders of Alpengummi. We got to know each other during our international master studies in environmental sciences in Copenhagen. In the second year - at the University of Natural Resources and Applied Life Sciences in Vienna - we had a course on innovations in the forestry sector. We came across the local tree resin as an almost forgotten raw material and the beautiful traditional craft of resin extraction (the "Pecherei"), which was added to the UNESCO list of intangible cultural heritage in 2011. When we found out that tree resins have been chewed in many cultures around the world for thousands of years because of their antibacterial properties, we asked ourselves what chewing gums are made of today. It was not so easy to find out, because on the list of ingredients on the packages it´s only written "gum base" and so there is no declaration of what it is actually made of. What we found out shocked us: Namely, that chewing gums are made mostly from petroleum products, in other words, plastic. It was clear to us: we need an alternative!
And so the idea was born!
The more we researched, the more exciting and intense our project became. We soon realized that inventing a natural & regional chewing gum is not only a sustainable business idea, but also has positive social and economic effects. So we stepped into the kitchen and started with the first experiments. Later we continued our product development in a laboratory at the university. At the beginning of 2019, the prototype development was finally completed. Alpengummi was born: free of petroleum, aspartame, plasticizers and other things you would rather not eat.
As the Alpengummi project became more and more extensive, we brought Richard & Sarah into the team. Richard comes from a family of bakers and studied food technology. Sarah studies economics and law.
The Alpengummi team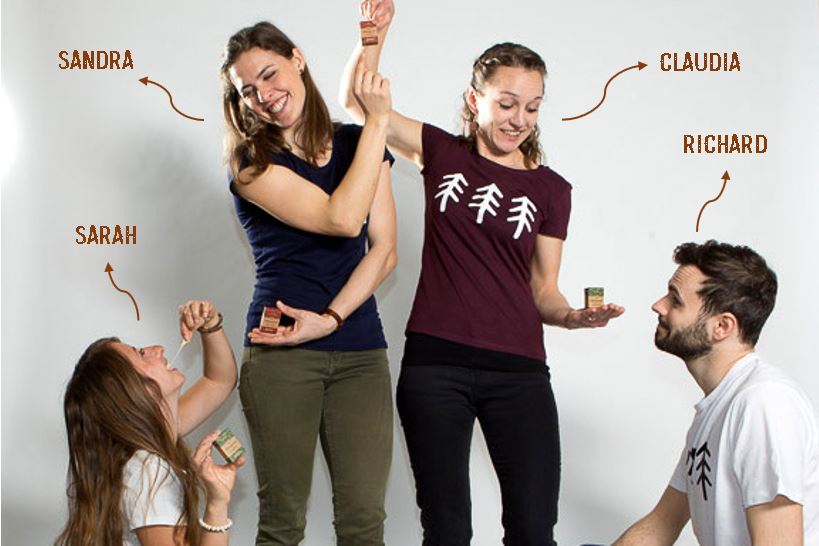 At this point, we would like to introduce ourselves briefly:
Sandra Falkner (Msc.): "I graduated in Biology at the University of Vienna, as well as the international "EnvEuro" Master in Environmental Sciences at the University of Copenhagen and BOKU Vienna. In the course of my bachelor's degree, I have repeatedly advocated sustainable economics and in the master's degree I have specialised in climate change and sustainable solutions in social areas. I am also a trained Green Cosmetics Educator and give seminars and workshops on this topic. I love to climb and I like to be in the mountains as often as possible. Together with Claudia I am one of the founders of Alpengummi."
Claudia Bergero (Msc.): "I have also completed the international Master's degree "EnvEuro", specialising in forest ecosystems and alpine biodiversity. I completed my Bachelor's degree at BOKU in Environmental & Bio-resource Management. At Alpengummi I can contribute my knowledge of ecological processes, my creative but also structured way of working and several foreign languages. In addition, I have been involved in entrepreneurship since my bachelor's degree (including as a tutor at the same university). I am also passionate about climbing and, along with Sandra, am one of the founders of Alpengummi."
Richard Haubenberger (Dipl.-Ing.): "As a food technologist, I support the team in an advisory capacity. My interest and passion for quality food was practically born into my cradle, as I grew up in a family of bakers. I studied in Italy at the University of Gastronomic Sciences (Slowfood Uni) and then completed my Master's degree in Food Science and Technology at the University of Natural Resources and Applied Life Sciences in Vienna. I joined the Alpengummi team in February 2018".
Sarah Hengstberger (Bac.): "I completed my Bachelor's degree in International Business Administration at the Vienna University of Economics and Business Administration. As a second degree, I am studying law at the Juridicum (Vienna) and have already completed several internships in tax consulting and law firms. I help out at Alpengummi wherever I can and am responsible for customer feedback and events. In my free time I like to do sports. I've been with Alpengummi since October 2017."
We also receive ongoing support from external parties! One example of this is Werner Wutscher, who acts as a mentor to us: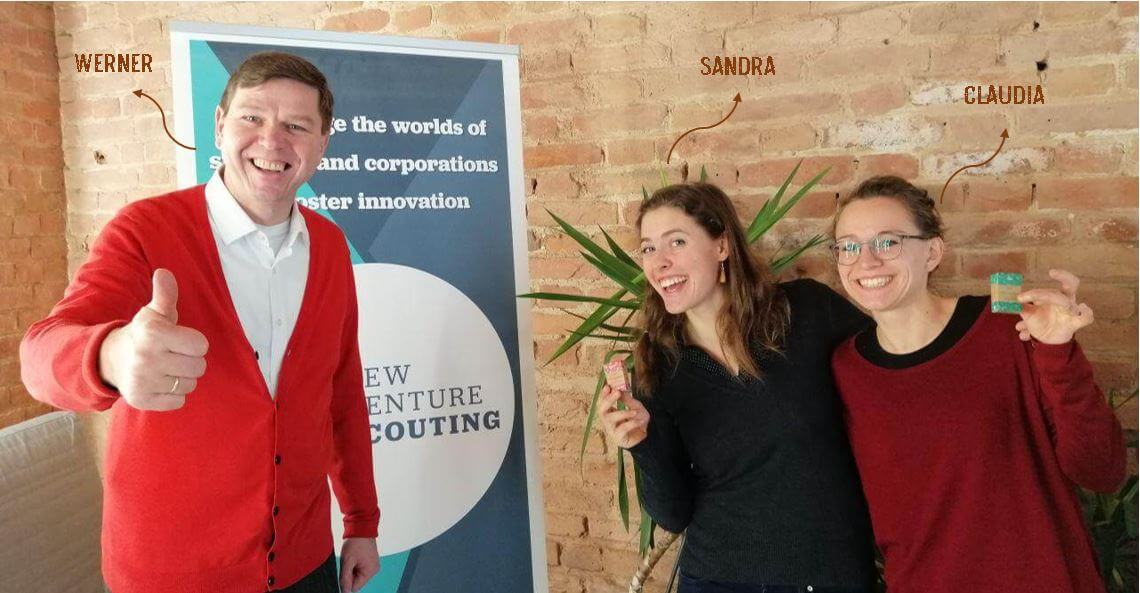 Werner Wutscher (Mag., MBA) has many years of experience in management positions in public administration (including AGES) and corporate management. In the past, he worked for REWE International AG and has built up brands such as "Ja-Natürlich" and "Wegenstein". As a start-up investor and founder of New Venture Scouting, with experience in wholesale, he helps us with strategic issues.
All in all, we are passionate chewing gum chewers & producers who want to be part of a new generation that recognizes and tackles the current social and ecological problems.